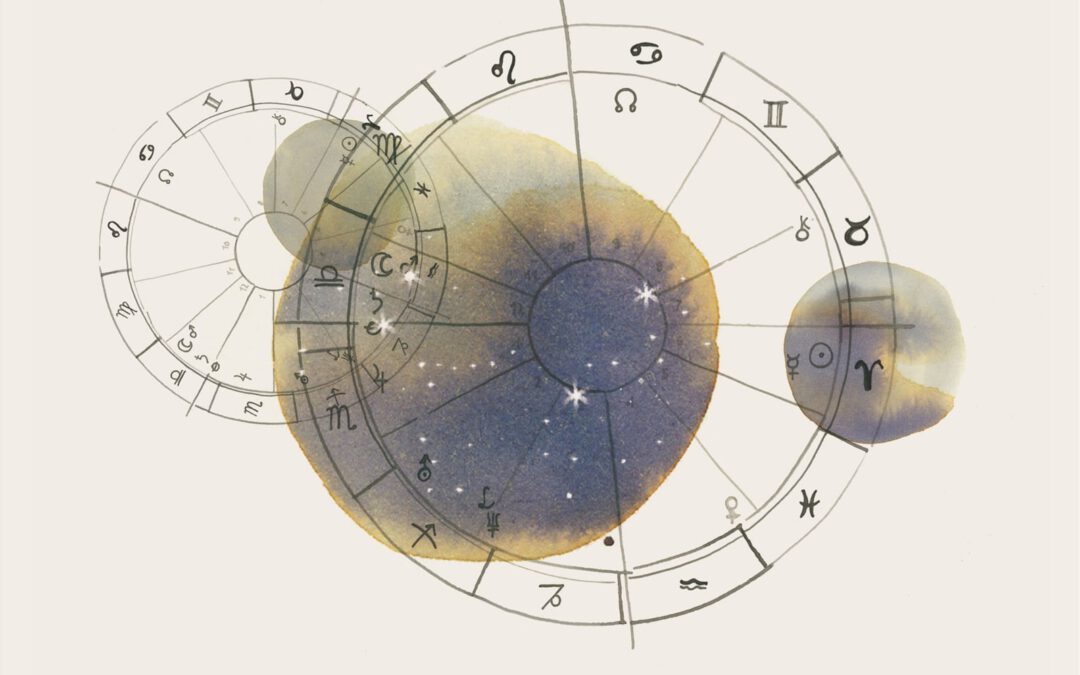 Dear Friends of HAUT & SEIN,
As I already mentioned in the yearly horoscopes for 2021 and 2022, since December 2020 we have been in a new era, the astrological Air Era. Jupiter and Saturn have moved into the movable Air sign, Aquarius. This kind of change in regime only takes place once every 200 years.
Until 2025 we will be in a transition period, during which the old, outdated power structures will be broken down to create new potential for development. A lot of the things that used to guide us will lose credibility and meaning. The pandemic and the subsequent war in Ukraine have led to upheavals that are turning everything upside down globally at a remarkable speed and shaking the foundations of what for a long time seemed so predictable to us.
In less than three years, it has become increasingly clear that we are living through some fundamental changes. These are indeed turbulent times. Even though there doesn't seem to be much hope at the moment that things will improve in the foreseeable future, we should be able to have a more optimistic view of the future from March 2023 onwards. Until the middle of the decade, this unsettling period will still make its mark, but the spring should see the dawn of a new era.
From an astrological point of view, the hardest times are behind us, because the two-year period of tension between the reformation planet Uranus in Taurus and the traditional planet Saturn in Aquarius has finally been resolved. Saturn seeks security in fixed material structures and traditions. Uranus wants to dissolve the old to make way for new possibilities. The last two years have provided ample opportunity to take a look at what has been achieved so far; combined with what has changed and where there may still be old issues that need to be dealt with.
The new year is beginning quite sluggishly and doesn't seem to want to get going. The Mars retrograde in Gemini lasts until 12 January 2023 as seen from earth. Normally, Mars gets things moving, but not when it's in retrograde. Energy can't flow freely and we are kept busy trying to work through what hasn't been done. It's a good time to question the way we do things and dynamics and change them if necessary. Mars is also in opposition to Neptune and represents a weakening of vitality that will continue into March. Manage your strength well and use this time for regeneration.
The transition of Pluto from Capricorn to Aquarius marks the major cosmic event of the new year from 23 March 2023. You may still remember the presidential election when Barack Obama came to power in November 2008, starting his period of office with Pluto in Capricorn. Aquarius is the great enlightener and promoter of equality and independence. It dissolves old values and replaces them with new ones. With the transition of Pluto into Aquarius, the circumstances of the past can be overcome, crises are easier to manage, and new paths can be discovered. We can also achieve more clarity on the potential for personal development and how to make good use of the time available to us, and understand the resulting strength we can gain from making connections with like-minded people.
Initially, there is a relatively short period in which Pluto remains in Aquarius until 11 June 2023. It will then take up its position in this sign from 2024 to 2043. However, we will get a first hint of this new power in 2023. In the first months of spring, we will experience strong impulses of this spirit of awakening, combined with burgeoning possibilities of development for each individual. This is a powerful period, full of life, which should be exploited to its full potential. The development of intellectual skills and the sharing of resources with others will become increasingly important in the years to come. The need to take time for your own wellbeing will increase with awareness of healthy lifestyles, diet and exercise. Until about 2025, there will still be the danger that the old forces of the Earth Era, combined with outdated power structures, will want to convince us to continue striving for material possessions instead of finding out which immaterial values really count.
From 7 March 2023, Saturn will enter Pisces for around two years, starting a period of harmony with Uranus in Taurus. Saturn stands for structure and solidity, as well as for development into an independent personality. When Saturn enters Pisces, we need to develop trust in ourselves. Empathy and compassion are topics that will be significant in the years to come – combined with the chance to recognise that we are on this earth to strengthen and support each other. Pisces is the sign with the greatest willingness to be there for other people; combined with an unerring intuition and a sense of deeper connections. One of the challenges will be placing too little trust in the new and perhaps often unjustifiable. A transformation of the old cannot be achieved overnight. We have to relive the past inwardly in order to let it go. After all, it is meant to last. When it comes to making changes, attentiveness and diligence are therefore required, combined with the task of training our own perception and following what our heart tells us. Retreat and inward reflection will be on the agenda for the next two years.
From June to the beginning of September, then at the end of September and in mid October 2023, the focus will be on relationships. During this special time, we may have very different experiences. Where relationships are out of balance, conflicts may arise, whereas healthy, genuine relationships will deepen. Between 23 July and 4 September, Venus will be in retrograde in Leo. Relationships will be put to the test. But this also offers a valuable opportunity to address issues that may have been overlooked for a long time. It may become clearer what you want from a partnership and what is no longer coherent. Compromises or corrections may be necessary.
In 2023, Mercury, Venus and Mars will at times be in retrograde. Special attention should be paid to this, as during these times strength tends to be directed inwards and is restricted in its outward deployment. At the same time, energy becomes more alert, conscious and concentrated, combined with the desire to engage only with what is being focused on. Sorting things out and creating order will be on the agenda.
Mercury in retrograde
29 December 2022 to 18 January 2023
21 April to 15 May 2023
23 August to 15 September 2023
Mercury in retrograde often leads to difficulties in traffic, trade and travel. Suddenly, many things no longer run as smoothly as usual. New things are put on hold, as patience is now required in these times. More misunderstandings can occur in communication. We need longer to understand how things are connected. Where possible, contracts should not be concluded during this time. If you're buying technical devices, technical faults may occur and they may have a short life span. During this time, we often have to face up to the past. Be more attentive during this period and always read the small print.
Venus in retrograde
23 July to 4 September 2023
When Venus is in retrograde, our personal and professional relationships are put to the test. You should be more cautious with investing money or anything of value at this time. You will now have the time to sense more clearly what you need to feel more balance and harmony. Whether it's a professional collaboration or a problem in a personal relationship, disagreements stand out, can no longer be ignored and need clarification. Conversations can provide this clarification and lead to stronger partnerships or separation.
Mars in retrograde
30 October 2022 to 12 January 2023
Mars is usually the planet of power and action, but not when it's in retrograde. Energy does not flow freely enough and therefore makes us more nervous and irritable. Everything that has to do with traffic and locomotion is affected by disturbances. No vehicles should be purchased during this time. This is an excellent time to put energy into tidying up. Use this time to start something you have been planning to do for some time or finish something you started a while ago and would now like to complete.
The new year 2023 is full of movement, which I have only been able to touch upon in the above yearly outlook. With my coaching, I would like to accompany you as you deal with the challenges of the new year in their entirety and in the context of your individual potential for personal development. Astrology points us in the right direction. The individual answers can be found in your own individual personality.
Thanks to my highly-sensitive perception, I will take you to explore topics that are often hidden deep in your subconscious. This form of "being touched" establishes a connection to the deeper issues so that they can be grasped in another dimension and thus enable more comprehensive answers. Everything you have experienced and your current circumstances are perceived with more intensity than if we just discussed things on a purely rational level. Thoughts and feelings take on a new tone and are looked at from a perspective that has not been available until now. I will then go through the insights I gain with you and put them into order.
I hope that, in this new era, you will make the most of the first signs of the start of a period of renewal in spring 2023 to make your own personal decisions and exploit the development of your own potential. The year ahead will change us for a long time to come. Make the most of this first push to engage with whatever fits in with your own lifestyle.
To make an appointment, please call me on +49 172 6882228 or send me an email to mail@hautundsein.de
I look forward to hearing from you!
All the best, Jana Pákozdi